Features
Feral Interactive Interview
MGS sits down with Edwin Smith, a senior Feral Interactive employee. Read on to find out the origins of the Feral name, how they choose games to port and what it's like being a gamer and a developer.
Jon Carr: Can you explain the origin or inspiration behind the name "Feral Interactive"? Also what is up with that cool cat logo?
Edwin Smith: There are many tales told of the origins of the Feral name passed down from employee to employee in strictest confidence. I have heard it was because the founder was in fact raised by cheetahs in the Serengeti. Another rumour was the founders favourite book was Arthur Conan Doyle's book "The Lost World". A rumour that was shot down (after checking the publishing dates) was the company was named after a Dilbert comic strip...

Honestly the reasons behind the name are shrouded in history, perhaps we should have a competition to decide what the official story should be. :-)
As for the "cool cat" it's a Cheetah, the fastest land animal in the world and we think is a pretty awesome animal to have as your logo. Years after we formed Apple agreed and used Cheetah as the code name for the initial release of OS X!
JC: Feral Interactive was started in 1996. 17 years is a long time for a game company to be around. What has changed over the years for the better? For the worse?
ES: Games have changed so much since we first started that I don't think you can really quote things that have definitely gotten better or worse.
For a little context, when we first started a games assets were a few hundred megabytes of game data with many thousands of lines of code. Now we get games that are 30GB or around 150 to 300 times bigger! Games now have millions of lines of code. You now have programs that run on graphics cards as well as your CPU, so you have amazingly complex middleware that do just one thing in the game like physics or audio.
Games do now have the ability to give you a much more immersive experience but that comes with the extra challenges as the game is a lot more complex to work on.
JC: What can you tell us about the process by which Feral goes about porting a game. Do you pick it? Does a publisher approach you? Would you pass up a game, and if so why?
ES: The most important thing is liking the game. The licensing conversation can start in many different ways depending on the game (have we ported the series before, have we ported games by the publisher previously etc). However when you get down to it the important point is we will only port games that we would be proud to put our name on. :-)
JC: Does having a previous relationship with a publisher help you secure other games? For example you did Deus Ex: Human Revolution back in 2011, and now in 2014 you did Tomb Raider. These are both published by Square Enix. However you did Borderlands, but not Borderlands 2.
ES: The best way of impressing people major publishers is by doing good work with the games we license and making sure they are beautifully ported and brought to the Mac platform with the care and polish they deserve. Without getting into specific examples, a publisher having worked with us previously has an advantage but there are various other factors that play a role.
The quality of our work and the happiness of the end users is the most important thing.
JC: Is it just me, or does Feral love racing? :)
ES: We have brought a number of big racing franchises to the Mac over the years, some of us a Feral really love our racing, some of us are more casual racers. We try and have a balanced library of many genres for all types of gamer but I won't lie being a racer I do enjoy working on them!

JC: Feral Interactive has been involved in a very wide ride of game genres and a few franchises. It's safe to say that without Feral the Mac game market would be a lot more of an empty place. How does it feel to bring all this goodness to Mac gamers?
ES: I like gaming and Macs so I consider myself very lucky to be able to have made a career out the two things. I know many of us at Feral really like not only making games but making Mac games. By that I mean games that embrace the Mac as the primary platform. We love taking a Windows game and making a Mac game (not just a port) by subtle changes and improvements to the game so it fits into the Mac OS.
A few of the things we do are things like support for Apple shortcuts. For instance, we support cmd + tab, but also many games have support for cmd + S for saving. We support the Apple 'Magic' mouse, drag and drop installation, iTunes and iChat status. They are all little things, but we feel Mac polish like this adds up especially over time. If someone gets a good experience repeatedly then they know they can trust the quality of our games. Reading user comments such as them liking our games is great motivation to make sure the next game out the door lives up to the same standards. :-)
JC: Most Mac developers/publishers don't announce their games in advance. However you guys have the Feral Radar -  A kind of mini-game for us to guess what you have coming next. Who comes up with these codenames, and what do you think when someone guesses correctly?
ES: The code names (and the images) are discussed inside Feral and people can vote or suggest an idea.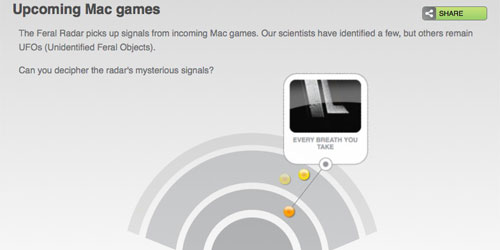 We do pay attention to various threads on the internet to see how the guesses are going. It's quite fun to see the speculation and the time and effort some people spend trying to reverse engineer the images or clues. We try and make them trickier but in the end someone always guesses the game, the fun bit for us it people can never be sure until we announce them!
JC: What is it like being a developer and a gamer? Does this affect your gaming experiences in any negative or positive way?
ES: It can be a little of both, but mostly positive. Being able to work on a game I'm a fan of - like Tomb Raider for example - before almost anyone else is great fun. The downside is you sometimes cannot take your development hat off when playing games you didn't make. I found a 100% hard lock crash on Super Paper Mario (Wii) just because I thought, "What would happen if I backtrack through this level?" It ended in me having to re-boot my Wii. :-)
JC: Thank you for your time!