Features
Why Everyone Should Play Spec Ops: The Line
Spec Ops: The Line was brought to the Mac late last year courtesy of the once-indie Digital Tribe Games. It's a great port that is well optimized. If you haven't played the game yet, I am here to tell you why you should. And even if you have played it, perhaps you missed the deeper meanings the game has to offer. I'm trying to avoid spoilers, but minor one's may be present.
You could certainly play Spec Ops as a shooter fan. There is a solid 3rd person shooter here with good gunplay and mechanics. But this is all just dressing to tell the story, to portray the effects of combat on your character and squad.
You could also play Spec Ops for its decent multiplayer and cooperative modes. They won't rock your world, but they are fun and engaging enough should you have some friends.
There's also a fair argument in the games visual beauty. And a lesson in artwork. Despite only dealing with so many colors, and many of them sandy and brown, the game manages to be vibrant and distinct from start to finish. Many military shooter games struggle with maintaining or presenting anything other than a muddled mess of colors. Spec Ops accomplishes a perfect contrasting visual style while still drawing from a narrow color palette.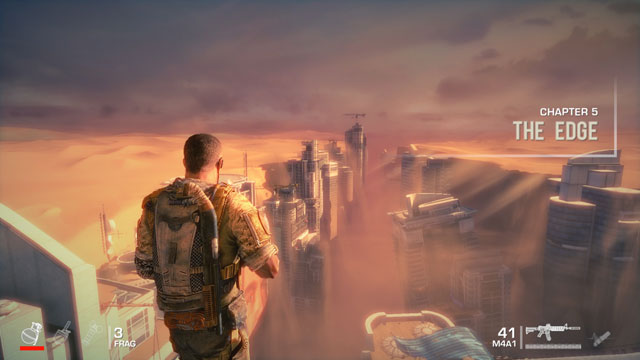 No, you should play Spec Ops: The Line for a subtle and subversive story experience. What at first seems to be your standard military "bro-shooter" soon turns out to be something far more dark and twisted. It is designed in stages, using tropes of the genre to draw you in and set you at ease. Relax. Shoot some dudes. This is a game you have played a dozen times before. You're the big American badass? Check. In a foreign place supposed to be saving the day? Check. Seemingly stereotypical squad mates? Check.
As you guide Captain Martin Walker and his squad through war-torn Dubai, the game takes its time to slowly worm its way into your psyche before its starts really messing with you. The setting is so familiar genre wise, but where the game differences itself is that it either shows you, or makes you live with the consequences of your actions. Many of which would be considered war crimes. Your character and his team are trying to do the right thing, save civilians, kill the bad guys. And yet they cross increasingly blurry moral lines in pursuit of this. Who is the real bad guy here?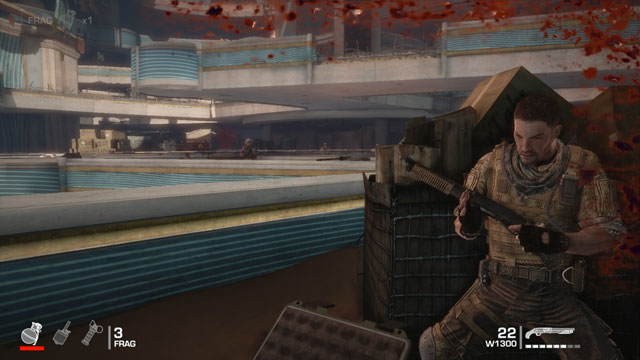 In most games character development only takes place in cutscenes, but here the characters eroding sense of self creeps into the game play. At the start of the game the characters use crisp and clean military jargon, while behaving professionally. Later on they turn into snarling beasts, savagely beating down enemy soldiers, screaming and cursing with rage at kills or weapon jams. The main characters, who seemed like stereotypes at first, are stripped away to reveal flaws and values. Not soldiers, not heroes, but men. But this descent is not sudden. It is gradual and best of all - your own fault.
It is a journey into a heart of darkness with you at its center. The game repeatedly forces you to make decisions under pressure. Most people will assume there is only one solution or one way to "win" the moment. We are so used to being railroaded and only given one path forward that we may not think of other options. Do you have to do this horrible thing? is there another choice? The game often gives you one without being apparent. And then you realize you just did something terrible when it could have been avoided. You start feeling bad. Not for the character. But about yourself, because you are making the character do it. And you didn't necessarily have to.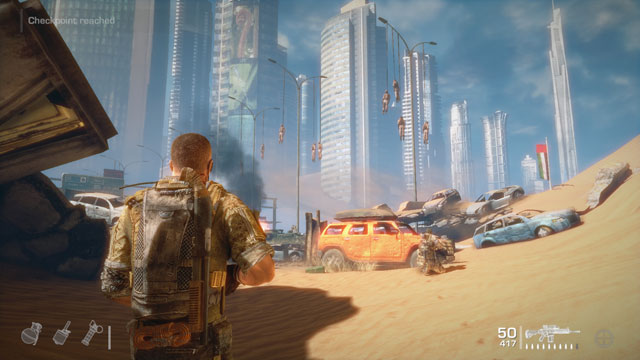 This is the stage where I found the game to be truly amazing. Even the loading screens start screwing with you. They go from giving game tips or thoughts to speaking directly to you. They say things like "You are still a good person." Or "To kill for yourself is murder. To kill for your government is heroic. To kill for entertainment is harmless." The game is short, but worth playing again. Not only can you choose different actions throughout the story, but you can see the brilliance of it all unfold from start to finish with the knowledge of what is really going on. There are also four different endings to the story, which again, are not apparent at first. This is writing and narrative direction at its best and you will marvel at it.
Ultimately it elevates itself beyond its platform, reaching past the narrative confines of a story to speak directly to the player. An unflinching look at the horror and consequence of war, and forcing you to see - and live with the choices you make throughout the story. It has the guts to ask big questions, to make you experience them, but the respect to let each player find the answers. Is it a condemnation of Walker? Of the player? Of war? It could be any or all of these and more, and it depends on your perspective. Two friends of mine commented on the game. One said "It makes you feel a soldiers fear." The other stated "It takes the Call of Duty right out of you." Personally as the credits rolled, I felt a mixture of shock, horror and sadness.
In a market saturated with military shooters and hero fantasies, Spec Ops biggest accomplishment isn't being a good game, but a message and an experience. The developers have made a title that is not only extremely unique, but important. For the first time, a game with guns doesn't want you to be the hero - it wants you to feel bad about trying to be one. More games likes this need to be made and everyone should play them. Don't miss this one.