Features
BioShock Infinite Preview
The name or title "BioShock" conjures up images of Rapture, the underwater city wherein the first two games take place. You even start the game on a stormy sea, reminiscent of the first Bioshock. However instead of going to the deep depths, you go up, up, up in the sky to the lost city of Columbia. Neither a prequel or sequel to the other games in the series, Infinite takes place in 1912 as you assume the role of Booker Dewitt, an ex-Pinkerton agent sent up in the clouds to clear a mysterious debt by finding "the girl" and bringing her back.
Infinite takes its time setting the stage before any real violence occurs. You are free to wander around the streets and shops of the city, taking in the sights and sounds of this amazing place. Its awe-inspiring in some ways, and the people seem friendly and happy. But you can tell there's something wrong, an undercurrent of menace lurking behind the cheer. There are warning signs to beware of "the false prophet" and how "the lamb of Columbia" must be protected. What this means and how you fit into the story are just one of many intriguing aspects to the game.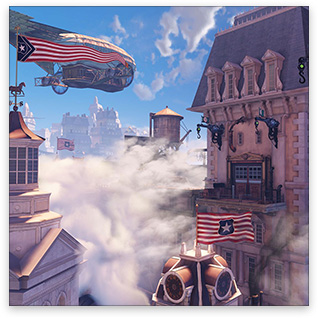 Even early on you view a lot of religious fanaticism and hints of slavery and racism. Heavy themes for a game no doubt, but Bioshock has always been about interesting and challenging ideas. On top of all this is the political strife which Booker gets caught up in as he finds and attempts to escape with Elizabeth.
Rapture had a sense of claustrophobia at times, being at the bottom of the ocean. But Columbia is all about expansiveness and makes use of its open and cloudy setting. A "sky rail" system lets you hook onto rails and zip around many levels at thrilling speeds. There's a new sense of verticality to a lot of the combat and making use of your environment. Its definitely a bit more frantic than previous Bioshock games, and this is a good thing.
In the place of the previous games Plasmids we have Vigors, which amount to largely the same thing. Though now powered by salts instead of EVE. The explanation for these isn't clear in the early stages of the game, though perhaps they are defined later. Still, the vigors are a lot of fun, whether its one that turns machines and foes to your side, or my favorite, the "murder of crows" which launches of swarm of angry crows to harass your enemies. While obviously inspired from Bioshock's bee swarm plasmid, its still cool and fun to use.
Instead of the extensive tonic system we have gear. Booker can find and equip various articles of clothing to give him extra benefits such as a chance to set enemies on fire with a melee attack, or have his weapons reload quicker. It's somewhat simpler than the tonics, but just as good. Combat is intense, bloody and at times brutal. Booker can execute enemies low on health with a melee attack, foes will disintegrate from electricity or melt to a skeleton from fire, and a shot to the face with a sniper rifle will leave your target headless.
I didn't play through the whole game yet, but so far I didn't encounter any bugs. Performance was stable and smooth and the game looks and sounds gorgeous. Definitely one of the best looking games to be released on the Mac.
Infinite feels different than the previous games, but this is not a bad thing. The setting is wondrous to behold, the story full of questions waiting to be answered and the gameplay is very fun. You can discover all of Columbia's secrets starting August 29th when the game launches.
Buy Bioshock Infinite