Features
Dead Island Game of the Year Edition Review
Reviewer Specs: Mid-2010 27" iMac, Core i5 Quad 2.8Ghz, 8GB RAM, ATI Radeon HD5750 1GB. Mavericks 10.9.2
Dead Island first came out in late 2011 as the action role-playing survival horror game to beat. It showed up recently in the Steam database as possibly having a Mac version, and now there is one courtesy of Virtual Programming. Is it up to snuff? Is it worth your time and money? Read on!
In classic fashion, you are one of four survivors who are somehow immune to the outbreak. Stuck on the resort island of Banoi you make your way through four distinct acts. The resort, an overrun city, the jungle and…a last location I won't disclose for fear of spoiling the story. Suffice to say each area is unique in its setting, quests and how you explore making for a fun and varied journey throughout Banoi. There's a story here, about a possible cure, trying to escape, helping other survivors etc. It isn't the best story around, but it is enough to keep you interested in finishing the game.
Act 2, the city of Moresby is easily my favorite location in the game. Going from the bright and shiny sands of the resort, to this haunting and grim city is thrilling. The tone is suddenly harsher, and feels like something out of 28 Days Later as you sprint through the streets with hordes of zombies chasing you. You are free to fast travel between locations as you please, but there is rarely a reason to backtrack to previous acts.
Taking clear inspiration from the Borderlands template, you have 4 characters each with a special ability of sorts and 3 skill trees. There are a multitude of randomly generated weapons with unique stats and occasionally elemental effects such as fire or electricity. The comparison stops there however and Dead Island is very much its own game despite borrowing ideas from others. Weapons can be upgraded and even modified to improve their stats. Stamina is a big part of the game, as each weapon swing reduces your bar, as well as running and taking damage. If you aren't careful, enemies can even knock you over. Every character can also kick things, which comes in handy in a variety of ways. It can stop a charging foe, or a jump kick can bash a zombie over where it's easier to deal with.
Dead Island isn't just violent. It is insanely violent, likely in ways you have not ever played before. Okay, unless you played Soldier of Fortune 2 that just beats it out. There are plenty of violent zombie games out there, but none quite like this. With a first-person perspective and most of the combat being melee, the fighting feels visceral and personal. Unlike other games in this vein, the enemies are not easy fodder. There's only a handful of different zombie types, but attract the attention of more than a few at a time and you might be in trouble. Each zombies head you crush with your bat or dismember with your sword is a triumph, a hard fought battle that leaves your character panting. The majority of this bloodshed is perpetrated towards zombies, however in later stages of the game you will have to kill other humans, mostly bandits. This isn't a bad thing about the game, just a warning for the squeamish.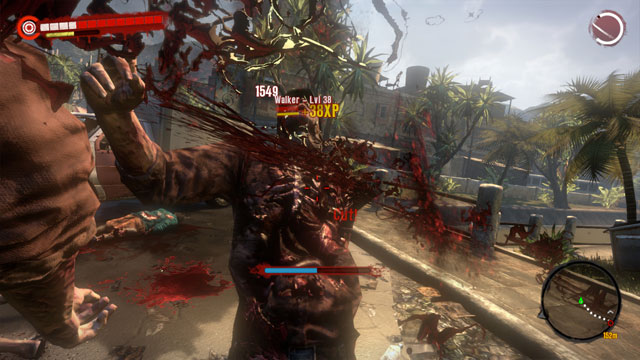 The weapon system is diverse with all manner of blunt and sharp objects to play with. The combat system has enough nuance to reward learning it, without being overly complicated. Guns play a smaller role as far as weapons go. The first gun you find will likely be around level 10-12 and have one or no bullets. Weapons don't truly come into play until act 2 and 3, but ammo is scarce and they must be used sparingly. You can craft your own ammo with the right scavenged materials or buy it from certain vendors, but it is not viable to play guns only. This makes the character with a gun specialty somewhat useless compared to the other melee-orientated classes.
Lastly, zombies will respawn after a little while in areas you have cleared. Some players may find this annoying, but I was okay with it. Mainly because killing zombies never gets old and always gives you experience. But if you really want there isn't any fight you can't sprint away from as you won't be chased that far. Vehicles are also scattered around each area letting you traverse quicker and watch the undead bounce over your car.
Visually speaking Dead Island looks good, downright gorgeous in fact. The environments are lush and detailed with varying weather effects and lighting. Character/zombie models are not bad and particle effects such as blood or fire are vivid. Every Act has a distinct feel that makes it rewarding to progress through. The resort is very open with sprawling beaches and hotels. The city is worn and destroyed and can feel claustrophobic compared to the wide-open spaces you came from. The Jungle is mysterious and begs to be explored. Obviously, a lot went into the blood and gore effects as these are quite well done.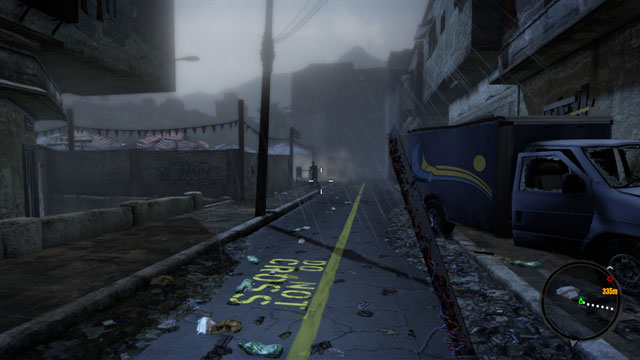 Audio doesn't stand out, but that isn't a negative remark. The voice acting is acceptable, and the music is suitable. The zombies sound like you would expect, and being alone slinking along a dark city street while unknown amounts of zombies groan and roar around you can be satisfyingly tense. Weapon and impact effects make you feel the connectivity of your blows, which is good given how much time you will spend in combat.
Performance was good to great on my Mid-2010 iMac and comparable to Bootcamp. I didn't notice any particular slow-downs or problems playing at max settings. Loading times were fairly long however, but once again, this is also present in the Windows version. The requirements do say they want 8GB of RAM, so if you are on the standard 4GB that might be an issue. However, without another machine to test on, I wouldn't know. I did read some other players had performance issues, but I can't say exactly why.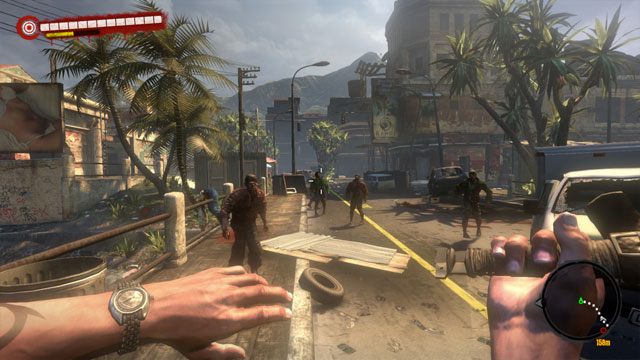 Having spent a substantial amount of time with the game in Bootcamp, I can say they ported over a few of the same bugs or issues. The mouse sensitivity is overly high, and lowering it to the point you wish for in game leaves it at a crawl in menus. Occasionally the game will crash to desktop, this is not a Mac specific bug for it happens in Windows as well. Every now and then a quest seems bugged or the physics will freak out and a zombie will jitter around strangely post-death. I've played through two full characters and wasn't that bothered, as these things don't arise that often.
The game will easily take you 20-30 hours to complete depending on how much you explore and how many side quests you undertake. Veering off the beaten path is rewarding and fun, so I definitely encourage it. This kind of game shouldn't be rushed through. There is a maximum level cap of 50, and finishing the game once will put you in the 30-40 ranges. Like Borderlands you can do a play-through "2.0" which sets everything to your character level and providers more challenges and better loot.
As this is the Game of the Year edition, it also comes with the DLC. You get conveniently early access to the Ripper mod from the start, which helps in the early areas. The Arena mode, which is a fun diversion for yourself or a party, sees you battling waves of increasingly harder zombies for experience and loot. Finally, there is a single-player only slice of campaign where you play the titular Ryder White who is actually the villain of the story. All worthwhile to play and experience for yourself.
Conclusion
I highly recommend this game and for $20 I consider it a no-brainer. If you bought this on Steam for the PC before, then you will automatically have it on your Mac since this is SteamPlay enabled. It is one of the most fun cooperative games there is, while remaining entertaining to play without friends, giving it that lone survivor feel. The core game is meaty and the DLC adds even more value. There are certainly a few quirks and bugs in the game, but nothing that is a deal breaking. We have never gotten anything quite like this on the Mac before and I think it is fantastic. Grab your machete and I'll see you on Banoi.
Buy Dead Island Game of the Year edition here at the MacGameStore!