Features
Tomb Raider Preview
My Specs: Mid-2010 27" iMac, Core i5 Quad 2.8Ghz, 8GB RAM, ATI Radeon HD5750 1GB. Mavericks 10.9.1
Tomb Raider was released on the App Store January 23rd. This however is a preview for the Steam version of the game, coming out January 30th. The main difference between the two is the Steam version contains Multiplayer and achievements.
Tomb Raider has enjoyed a long and successful history on many platforms, including the Mac. We've gotten a good many Tomb Raider games over the years, but this one is the first game to not only capture my attention, but grip me from start to finish. Thanks to Feral Interactive for another amazing port.
A reboot of the franchise, we play a young Lara on her first adventure - an archeological expedition to find a mysterious island at sea. After a freak storm sinks the ship, Lara and her crew-mates are washed ashore. Things quickly go from bad to worse as Lara is captured and finds herself strung up in a cave. Escaping her predicament leads her to be brutally injured, stumbling around as she tries to keep herself together. Kudos to the animation and voice-work which shows off Lara reacting realistically to her situation. Much of the start of the game has a scared Lara struggling to survive and find food and shelter on the island.
The rest of the game has you exploring the island, rescuing your friends and finding out just what craziness is going on. Going into more detail would spoil the excellent story so I won't. But suffice to say it is very engaging and all the characters are interesting. Ultimately this in an action adventure game with only a dash of actual tomb raiding going on. (The tombs are actually all optional, but well worth it.) I found the blend of combat, puzzles and exploring to be well balanced.
Lara can find salvage and scrap which she uses to craft better equipment. Completing challenges, killing enemies and exploring tombs all gain you experience points. Campfires serve as waypoints and resting places. You can upgrade your skills with earned XP, improve your gear and hear Lara's thoughts on what is going on.
Combat is intense and frantic. Enemies are decently clever and will frequently flush you out of cover and come at you from unexpected angles. In general it will keep you on your toes without being unfair. Lara has a few WW2 weapons at her disposal and best of all, her trusty bow. There is also plenty of room for stealth, and one of the best sections of the game for me was a moonlight forest section where you can sneakily hunt down numerous enemies.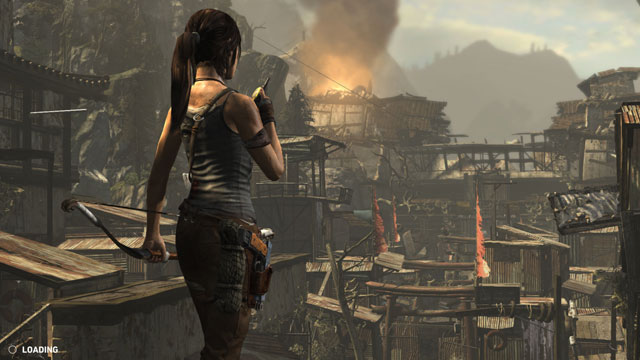 Let's talk about graphics. Simply put, Tomb Raider isn't just one of the best looking games on Mac ever, I think it one of the best looking games period. Water and fire effects are dazzling, storms feel wet, snow feels cold and the lush environments are just begging to be explored in detail. The system requirements can be hefty to run it at its best, but the game performs well in the required 10.9. (Mavericks.) Audio also deserves special mention with fantastic music, sound effects and voice actors bringing emotion and life to the script.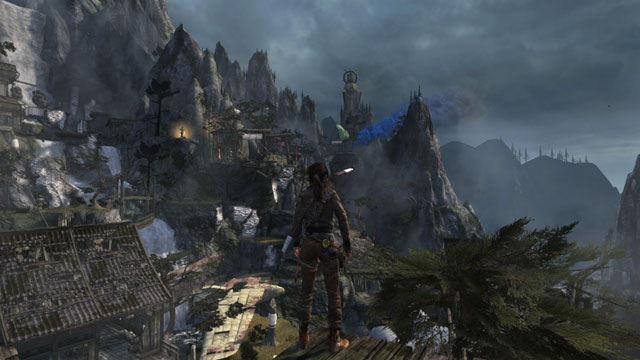 There is also multiplayer for the first time. While primarily a single player outing, the multiplayer is not bad. A variety of characters from the game can duke it out for supremacy in various maps from the game and some new places. I enjoyed zipping around a pirate ship and hunting people down in a forest. There's your standard unlock system for weapons, perks and the like. Every map has a super powered bow or gatling gun to find and pickup to give you an edge. Netcode also seemed smooth and responsive even though I was playing with people in a different country. It won't be the reason to pickup this game, but it is certainly decent fun and worth a peek.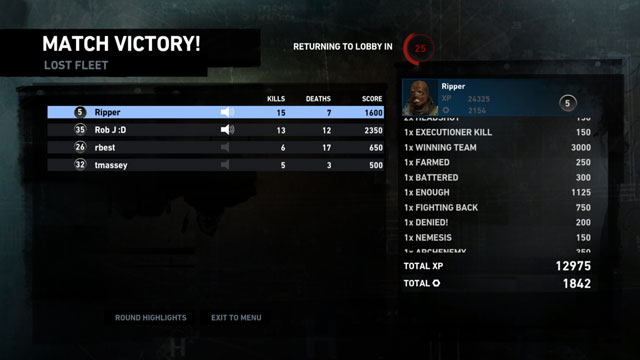 In conclusion, this game is amazing and I couldn't put it down until I finished it. Anyone capable of running this game should be playing it. At $50 it isn't cheap, but it is one of the best games you will play this year. Don't miss out on Lara's adventures.