Features
Call of Duty: Modern Warfare 2 Review
Reviewer Specs: Mid-2010 27" iMac, Core i5 Quad 2.8Ghz, 8GB RAM, ATI Radeon HD5750 1GB. Mavericks 10.9.3
Modern Warfare returns to the Mac after a rather long hiatus. We haven't had a Modern Warfare game since 2008. Has six years been worth the wait? If you're a Call of Duty fan then yes. If you weren't a CoD fan before this, MW2 probably isn't going to convince you to pick up the series. Curiously Aspyr released both MW2 & MW3 at the same time. I thought they would conflict, but perhaps everyone has a favorite.
Campaign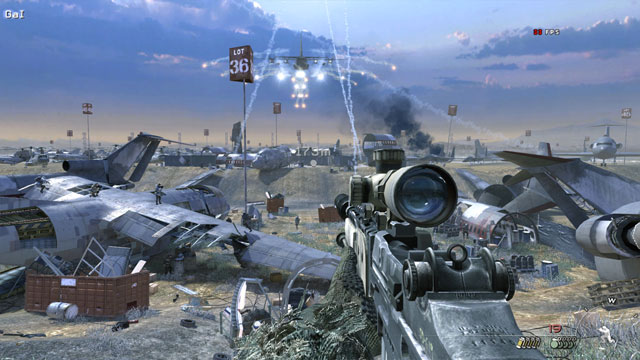 Set 5 years in the aftermath of Modern Warfare, there is more trouble with the russians and those pesky terrorists. I can't go into too much detail in fear of spoiling the story, but suffice to say it is very engaging for the 5 or so hours it will take to complete. From ghosting guards in the snow, a daring assault on an oil rig, a dramatic prison-break or a somber ending level where you work your way solo across a battlefield, the campaign delivers the action and is the most fun I've had in years.
Nothing will top the time in MW1 when you die in the nuclear explosion, but there are several shocking moments and twists which worked surprisingly well. Call of Duty is still Call of Duty with all the expected set-pieces and bombastic action. But it pulls off the right moments when it needs to in terms of character actions and dialogue. More-so than you might think from what many consider "a big dumb shooter." The campaign suffers from excessive hand-holding but this is a curse all the Call of Duty single-player outings seem to have.
Also worth mentioning is the controversial "No russian" level where it is possible to shoot down civilians. My opinion is that anyone who is actually offended by this in a video game has problems and likely shouldn't be playing them. It is integral to the core story and sets off a huge chain of events. I didn't enjoy the level per-se, but I did liked it for how it launched the rest of the story into motion.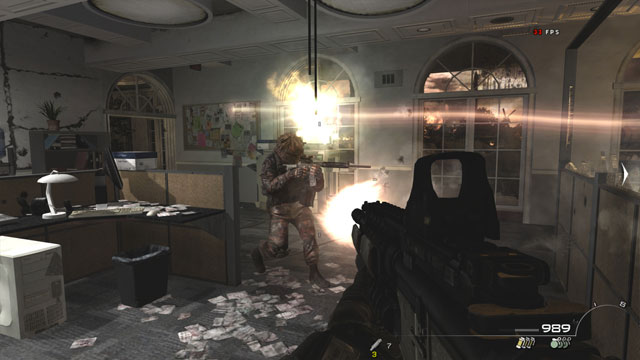 Multiplayer
The single-player outing is a blast, yet the main draw of the series has always been the competitive multiplayer. So how does MW2 fare here? Well I used to play it a lot in 2009 via bootcamp, I can't say I spent much time here in 2014. Not that age has to determine fun, I just didn't find the same draw that I used to. (mainly because I prefer MW3 a lot more.) But It is all here. Lots of maps, game modes, custom load outs, guns, attachments, perks and more.
It is solid fun, though I found some of the higher level gear unlocks were unfair vs low level players. But this is largely how unlock-based systems work in general. The more time you put into it, the more you are rewarded with goodies. Still, I'd prefer a more balanced playing field which is something Black Ops manages to do quite well.
Spec Ops
Special Ops is a cool new single or two-player cooperative mode where you play unique missions or pieces of the campaign in small slices. Defend an outpost, assassinate a target, rescue a hostage, defuse bombs, stealth attacks and so forth. These are quite fun solo but even better cooperatively. Some of the missions require two people to play at all and these are the best due to the requisite teamwork needed to complete the objective.
Performance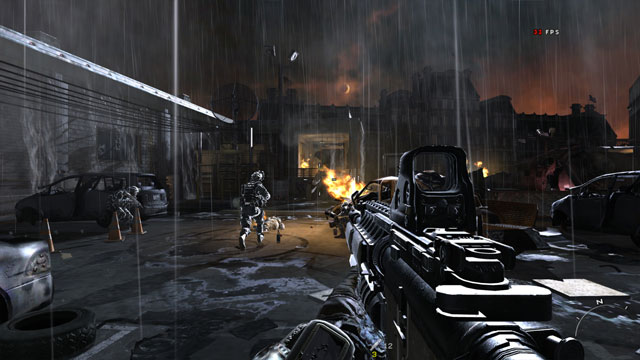 Being a 5 year old game MW2 won't be straining your Mac anytime soon. It still requires some decent specs to run, but I imagine most anyone could run this smoothly on any settings. On my mid-2010 iMac I could easily max all the settings and resolution while playing without hitches or stuttering.
Graphics are surprisingly good for a title this old. None of it's going to blow you away, but there's certainly some well done effects and animations. Similarly music and voice work are strong. This is a AAA title after all.
DLC
There are two DLC-map packs available for MW2. Are these worth it to purchase? Probably not at $15 a piece, totaling $30 for both. The maps are great in and of themselves. The problem lies in that no one seems to be playing them that much. (An issue that plagues Black Ops on Mac as well.) I certainly played a few matches on them during my multiplayer time and had a blast. I particularly liked Salvage, a snow junkyard with lots of close-quarters fighting. I'd suggest only buying them on sale or if you have the extra money and don't care about the price.
Conclusion
For $20 Modern Warfare 2 is an easy pickup. The campaign is some of the most fun I have had in a long time and the multiplayer is solid. (Even though I will spending my multiplayer time in MW3.) Spec Ops is a great addition for alternative solo or co-op play. With full SteamPlay except in Spec Ops you won't have to worry about not having anyone to play with. There's the occasional hacker and bad match host, but any online FPS has its pros and cons. If you aren't into the multiplayer, then the campaign and spec-ops missions will keep you busy for awhile. For everyone else the tried and true CoD multiplayer formula is on full display.