Features
Diablo 3: Reaper of Souls Review
Reviewer Specs: Mid-2010 27" iMac, Core i5 Quad 2.8Ghz, 8GB RAM, ATI Radeon HD5750 1GB. Mavericks 10.9.2
Two years after the initial release of Diablo 3, Blizzard is giving us our first expansion pack aptly entitled Reaper of Souls. This expansion Offers up a bevy of new content, including Act V, Adventure Mode, the Crusader class an increased level cap and more. Wondering if this is worth your $40? Read on to find out!
Story-wise, events pick up shortly after Diablo 3. With Diablo defeated and the Black Soulstone captured, Tyrael hides the Soulstone away, hoping no one will find it. Then Malthael, the former angel of Wisdom, now the angel of Death, shows up and steals the Black Soulstone for his own nefarious plans. The Nephalem player character is once again called upon to save the world, this time from Angels, instead of demons.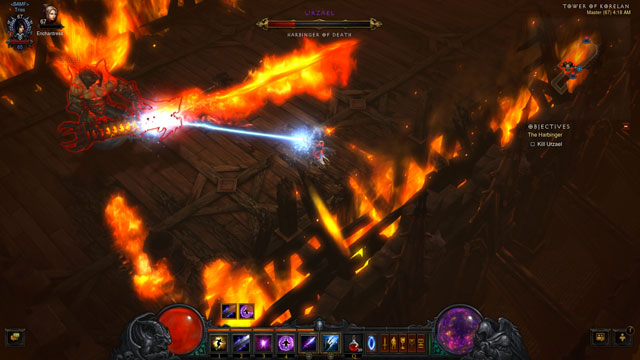 I was happy to find out that this expansion focuses heavily on the characters and the lore, which I am fond of. There are personal quests for each of your companions as well as Shen the jeweler. The refugees and citizens of the Act V camp are varied in their dialogue and personality. Some stories are touching, while others are sad or just outright funny. You also get to interact further with Tyrael, who has particular amusing lines about being human. Sadly, the core storyline suffers this time around since Malthael doesn't have time to become a compelling villain in just one Act. He just shows up a few times, intones some scary things and vanishes until the final confrontation.
Boss fights are vastly improved in Reaper of Souls. Diablo is notoriously easy for being the end of Act IV, but Malthael is no pushover and is a challenging fight on all difficulty levels. Not all the boss fights are hard, but they are all visually dynamic and make it feel suitably epic to take down the big baddies. I also noticed a significant increase in unique elites in Act V, and it was fun to take these various foes on. There is also a notable increase in random quests you find in each area, as well as side dungeons. The Blood Marshes area alone took me over 3 hours to complete as I explored every nook and cranny.
Act V is positively gorgeous. It feels dark, gothic and alive all at once. Environmental detail is amazing and puts every other Act to shame. Every section is just bustling with visual and audio effects, new monsters, quests and stuff happening. I wish they could or would go back and redo Acts 1-4 to be this good. It definitely feels a lot more like Diablo 2 in setting, which for many is a good thing. There are 3 distinct sections in Act V making the journey that much more varied and fun.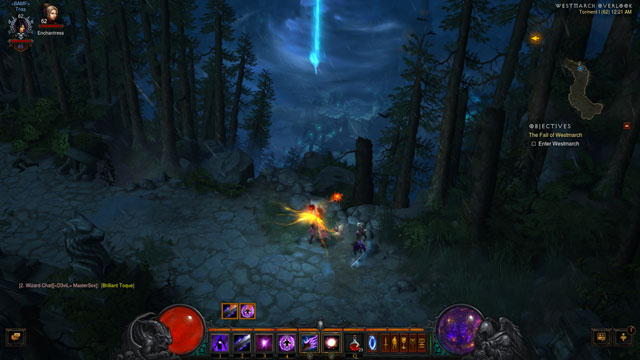 Music deserves a very special mention for it is just amazing. Brooding, tense, beautiful and epic by turns, I actually stopped and listening to the music at some points. I also thought to myself "I want this in iTunes!" and after finishing the game, I did just that and bought the album.
A big NPC addition to this expansion is the Mystic. She was reportedly to be in the original game, but was cut out. Well she's here now, and what a great addition she is indeed. You can transform all of your weapons and armor to look like any other piece you've found before. This solves the mismatched look characters would suffer from over the course of playing. Between that and dyes you can now create a large variety of unique and pleasing looks. Her second usefulness lies in Enchanting. This lets you take one property (or affix) from a weapon or armor and change it for a price. Don't like the +Int on that Barbarian sword? Reroll the stat for a chance to get a +Str property instead. Crit chance too low on those fancy gloves? Reroll it to be higher. Legendary items are also able to be enchanted, but they are more expensive. You can reroll as many times as you like, however you may only change the property you first picked. I found this a fair and balanced system that was a fun way to tweak my gear to what I wanted.
The level cap increase is more than just stats. Every class gets one new skill and 3 new passives to unlock along the way. Most of these are cool such as the Wizards Black Hole spell, which sucks enemies in, or the Barbarians Avalanche that dumps a pile of rocks onto monsters heads for massive damage. I found myself underwhelmed by the Witch Doctors Piranhas skill though, as the class has more damaging and useful spells already.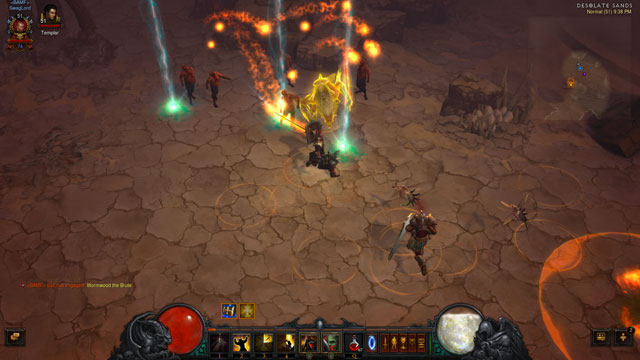 The new Crusader class is a great addition to the roster of heroes. Designed as a melee tank with ranged abilities I was pleased at the mix of melee and long range attacks this class posses. Crusaders use some mighty skills dealing holy damage and I was impressed with their ability to clear large groups of mobs quickly as well as some neat party skills that let you take damage for other players. The class is no slouch on passive skills either, the most unique one being the ability to wield a 2-handed weapon in one hand.
Adventure Mode unlocks after you complete Act V. This mode removes any story quests and gives you complete access to every Act in the game. Each Act has 5 bounties to complete, which are special quests. It could be to kill a boss, clear a cursed chest event, slay every monster in a dungeon and so on. Finishing every bounty nets you some xp and money, but completing all bounties in the Act rewards you with caches. This are one time use boxes which you open in a nice loot explosion.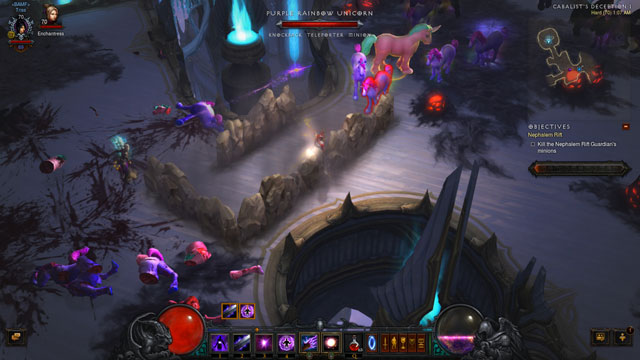 Completing bounties also gives you Riftshard keys and five of these open a Nephalem Rift. These rifts randomly pull from every Act's tile set and monster pool to create a unique world. My favorite was getting Whimseyshire ponies and teddies while in the High Heavens of Act IV. It felt ridiculously out of place, yet perfect at the same time. To finish the rift you have to kill enough monsters, which fills up a progress bar. Once that is done, a Rift Guardian appears as the last challenge. Killing the guardian ends the rift and gives you more loot. Overpowered shrines also show up in rifts. You might gain invulnerability for 30 seconds, super speed, or my favorite - one that zaps every monster nearby as you run around and insta-kills them.
Gimmie The Loot
Just before the launch of the expansion, Blizzard dropped the "Loot 2.0" patch, which fixes a number of problems with the loot system and thankfully removed the auction house entirely. You don't need the expansion to use this patch, but it's relevant to talk about in this review. The changes are most welcome, as better items and legendry's drop more often, and are actually legendary feeling most of the time. Item stats and affixes are also more likely to be geared towards the class you are playing which is part of the new "smart" loot system in 2.0. A lot of the level 70 legendary items have special affixes that can change the way you play. A pair of gloves might make shrine effects last for 10 minutes. A weapon may cast an extra spell for free on attack, and some shoulder pads may let you teleport to camp even while taking damage.
The difficulty system has also been adjusted. In place of Monster Power blizzard has added Torment, 1-6. Each additional level adds challenge, but more xp, gold and possible loot drops. The difficulty also now dynamically scales to your characters level, so challenges feel more appropriate and gradual. The closer I got my Wizard to level 70, the harder the game became. I started out Act V on Torment 2, and ended up finishing it on Expert.
Conclusion
Some people argue that Reaper of Souls is mostly serving up content that should be free or in the game to begin with. Maybe they are right, but I felt satisfied with buying it. Two years on Diablo has finally become the epic and very fun game it was meant to be and I for one, am not going to complain. Diablo 3 is fun again due to the new Loot 2.0 patch and this fantastic expansion. Anyone still playing Diablo 3 these days should buy it and experience the awesomeness for yourself. You won't regret it.